In the year of 2000AD's 25th anniversary, Ninth Art spoke to some of the magazine's most famous creators - Pat Mills, Alan Grant and John Wagner - about their memories, their regrets, their creations and their influences.
17 June 2002
---
"Dredd was so successful because he was a little ahead of his time. I have always believed that successive generations went to the opposite extreme of its predecessor. In this case I thought the peace loving, flower-wearing hippies would be superseded by a spiteful, black anarchic generation. The Dredd generation!" - JUDGE DREDD artist/designer Carlos Ezquerra.
Earlier this year, 2000AD - the most successful comic ever produced in the UK - celebrated its 25th anniversary. A quarter-century of sci-fi with attitude; of mek-violence and time-twisted Future Shocks; and, of course, two-and-a-half decades of everybody's favourite future lawman, Judge Dredd. With that in mind, Ninth Art recently had the opportunity to ask three of the gentlemen most responsible for 2000AD being the Galaxy's Greatest Comic - Pat Mills, John Wagner and Alan Grant - what they thought about such a milestone.
Pat Mills: "Operating at the fringe"
"Many of our editors had been with the company for forty years ... [and] the biggest enemy they could think up for our young readers was the park-keeper who shouted at them to 'keep off the grass'. Then a guy like Pat Mills comes along, a freelancer operating at the fringe ... he was part of my plan to [bring British comics] into the 1970s." - Fleetway/IPC chief John Sanders.
Although it was IPC sub-editor Kelvin Gosnell who first came up with the idea for 2000AD (see David Bishop's recent series on the comic's history in the 2000AD Megazine), it was Pat Mills who not so much ran with the idea as chased it, caught it and pummelled it into submission.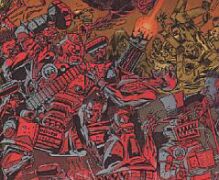 It took a lot of hard work and plenty of running battles with the old guard, but 2000AD managed to survive the painful birth. Mills is understandably appreciative that the home to his various brainchildren (RO-BUSTERS, SLAINE, NEMESIS THE WARLOCK and others) has prospered - although he did admit that he remains "a bit touchy on the subject" of 2000AD's origin.
What do you think accounts for the continued success of 2000 AD, after 25 years of continuous publishing?
"Strong foundations. Negative attitude towards establishment. Not becoming a typical Brit comic and keeping American influences at a distance, too. Strong writers and artists."
Did you think that it would last as long as it has?
"Yes. I recall being uneasy about the title and saying ... what would happen in 2000AD? ... I'd been connected with long-running titles, so it wasn't that strange. And I knew I had something very special."
What was your favourite work from other writers and artists?
"Not one particular favourite in 2000AD . I liked many of them." (Mills notes, however, that he enjoyed working with NEMESIS co-creator Kevin O'Neill the most.)
Given the chance, what would you change about 2000AD?
"It's not 2000AD I would change... but the management systems that harmed it in the past. If writers and artists had been treated with more respect and their rights safe-guarded, it would have been a stronger comic.
"Personally, I would've fought even harder for a proper rights deal - to transform us into a genuine European style production where there is true respect and financial rewards for creators."
Alan Grant: "Not afraid to experiment."
"He brought a lot to [2000AD] - he's fluent and imaginative with a good grip on what the readers want." - John Wagner.
Grant started off as 2000AD's sub-editor (circa Prog 100), and dealt with various challenges during his tenure: merging titles, serials that went on beyond their natural lifespan, and the ever-present spectre of censorship. However, when he joined frequent collaborator John Wagner on JUDGE DREDD during 'The Judge Child Quest', he quickly established himself as a writer of the first rank, both with Wagner and on his own, on titles such as STRONTIUM DOG, PSI-JUDGE ANDERSON and DURHAM RED.
Did you think that 2000AD would last as long as it has?
"No...but that's mainly because none of us ever thought about it very much. There have been several 'scares' over the past few decades, when the comic's circulation has sagged. Generally, these were reacted to on an ad hoc basis. I don't think there's ever been any long-term plan for 2000AD ."
"As for why it's lasted as long as it has: several reasons. Perhaps most importantly, Pat Mills' and John Wagner's continuing involvement with the amazing range of characters they created. Second, it's been a showcase for - and often featured the first work done by - many of Britain's top artists. And writers. Mustn't forget the writers.
"And thirdly, it hasn't been afraid to experiment. Generally speaking, stories which weren't liked were quickly dropped, like RICK RANDOM and ANGEL. But other offbeat series, like FIENDS OF THE EASTERN FRONT and HARRY TWENTY ON THE HIGH ROCK, struck a chord with many readers, and were retained. This willingness to experiment hasn't been a feature of every editor, unfortunately. But, even during the 'dark ages' of 2000AD, there was always something in there worth reading."
What do you consider to be your best work in the title?
"JUDGE ANDERSON in 'Shamballa' and 'Satan', because I love Arthur Ranson's artwork. Any one of several STRONTIUM DOG series like 'The Rammy', because Carlos Ezquerra is so great. And quite a lot of the short DREDD stories John and I wrote together."
You've worked with a great many artists over the years - who did you enjoy collaborating with the most at 2000AD?
"Arthur Ranson on many JUDGE ANDERSON series, because his storytelling greatly enhanced everything I ever wrote. Carlos Ezquerra on a wide variety of stories and characters, because we've been friends for a long time and he always visualises what you wrote better than you did. And Simon Bisley is a force of nature."
Where did the ideas for many of your stories come from?
"In a lot of cases, particularly with DREDD, it was whatever stories happened to be in the news or on TV at the time. That was also the case when I was writing BATMAN, though a lot of the stories there were inspired by magazines like Scientific American."
If given the chance, what would you change about 2000AD and your contributions towards it?
"I'd have taken Jose Ortiz off HELLTREKKERS and replaced him with Kev O'Neill. The series would have been a sure-fire hit rather than a bellyflop. Also, there are a couple of editors I wish I'd punched in the nose while I had the chance. I think the only story I'd consign to oblivion would be the ANDERSON tale 'Crusade'. I thought Steve Sampson made a valiant effort with the artwork, but in the end the story sank under the sheer weight of children (and not very good writing)."
John Wagner: "Truth with a capital T"
"He is the quintessential British comics writer, he excels in six-page chunks. Wagner writes from life, that's his trick ... and that's why Wagner's work has so much truth about it - truth with a capital T." - former 2000AD editor Alan McKenzie.
John Wagner got his start on the humour comics and girls' magazines of the 70s, then went on to work with Mills on the ground-breaking titles BATTLE and ACTION, the latter of which fell prey to censorship due to a public outcry over violent content.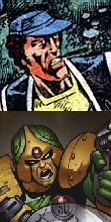 The demise of ACTION, though, led to 2000AD, and to Judge Dredd, of whom Wagner is considered the definitive writer. Having written the bulk of Dredd's adventures over the past 25 years - as well as creating such well-loved characters as Johnny Alpha (STRONTIUM DOG) and Sam Slade (ROBO-HUNTER) - Wagner has quite a bit to say on 2000AD's past.
What do you think accounts for 2000AD lasting for a quarter-century like it has?
"Innovation, dark humour, a rich vein of anarchy, more adult storylines without being inaccessible to younger readers. I wish I knew for sure; you could bottle it. Something's obviously struck a chord with a lot of readers and engendered a tremendous amount of loyalty."
Did you personally think that it would?
"Absolutely not. Two or three years, tops, and that would have been pushing it for a comic of the time. If people have been reading David Bishop's history of 2000AD in the Megazine, they would realise how precarious its survival sometimes was."
Is there any series you'd like to see return to the pages of 2000AD?
"The one I would like to see back in the comic is RO-BUSTERS, with Pat Mills and Kevin O'Neill at their anarchic best. That story moved on long before I'd had enough. [I] also really enjoyed the recent reprints of DR & QUINCH in the Megazine - clever writing by Alan Moore, great art from Alan Davis."
Who did you enjoy collaborating with artistically?
"The ones I keep coming back to are Carlos [Ezquerra] and Cam [Kennedy]. That's because they're getting on now and can do with a little help. I use very large type in my scripts so it doesn't strain their eyes, and try not to use too many big words.
"Seriously, we're personal friends, and it's good to work with people you genuinely get along with and respect. They never short-change you on imagination or effort. I've been privileged to work with a lot of other great artists over the years too; most of them have been a pleasure to work with. "
Where did the inspiration 0come from?
"That's too big a question to answer. Inspiration comes from anywhere and everywhere. Often you would be given a task - 'create a bounty hunter of the future', for example. So the initial inspiration comes from the editor. The mutant thing (in STRONTIUM DOG) - was that from my own upbringing in the shadow of nuclear war, or the prevalence of mutants in American comics, or a comment on racism, or... ? The alpha eyes - from Superman? Or those X-Ray spex ads you used to see?"
If there was anything you could change about 2000AD, what would it be?
"I wouldn't have killed Johnny Alpha."
Special thanks to David Bishop and Andy Diggle for their assistance.

All rights reserved. This article may not be reproduced without the author's express written permission.