Get some big ideas with your comics this week with Seth Fisher's magnificent Marvel swansong, the ACTION PHILOSOPHERS' collected wisdom, and some whimsical implausibility from WOODSMAN PETE.
05 June 2006
---
Welcome to The Forecast. Every Monday, Ninth Art's hand-picked team of crack comic pundits offer a rundown of some of the best, worst and most noteworthy books on the shelves of your local comic shop.
BOOK OF THE WEEK: BIG IN JAPAN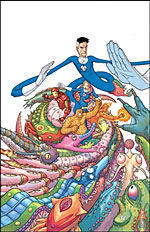 This comic may be remembered for the wrong reasons. Wrong, because it was the last work by the incredible artist Seth Fisher, who died in January, and because he drew himself saying goodbye to the readers on the last page. Wrong, because a coincidence like that can cast a pallor of tragedy over a work that makes readers forget the actual content.
And tragedy is the last thing that BIG IN JAPAN (Marvel) is about. Because like Seth himself, it was mercurial, energetic and weird, weird, weird.
Fisher, who got his start with HAPPYDALE: DEVILS IN THE DESERT with Andrew Dabb, was choosy about his projects, probably to the detriment of his popularity. He worked with writers whose projects were usually infused with his own sense of the surreal - JM DeMatteis on the WILLWORLD graphic novel, XOMBI's John Rozum on the TIME FLIES one-shot.
For JAPAN, he teamed with Zeb Wells, who does his damndest to tailor the script to Seth's relentless imagination. A Sisyphean task, but the book comes off as a wonderful showcase for Seth's elegant and bizarre sense of design as Iron Man and the Fantastic Four find themselves in a battle with ancient creatures with big eyes, big teeth, and tongues where there should not be tongues.
Oh, and all this strangeness leads to an ending that, even without real-world events, may bring a poignant smile to your face.
Seth Fisher was a force of nature, a relentless source of personal and artistic energy that was taken far, far too soon. But the tragedy of his death shouldn't overshadow the sheer fun of both the work and the man. Read BIG IN JAPAN, and remember who Seth Fisher was and what he accomplished, for the right reasons.
TALL TALES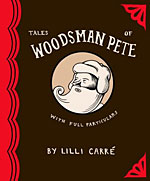 It's my birthday tomorrow. I'll be thirty-one years old. I'm quite depressed about it - although, it beats the alternative - so I'll be spending the day alone, cutting a swathe of consumption across the Midlands in an attempt to fill the gap in my soul with comics.
Which means I won't have enough money for Top Shelf's TALES OF WOODSMAN PETE, which hits stores later this week.
A book-length collection of strips by Lilli Carré, WOODSMAN PETE is the story of a lugubrious lumberjack with a near-Munchausian grip on reality. Living alone in his cabin, Pete develops a strange relationship with his furniture, including the bearskin rug, Philippe.
Carré's mixture of intricate line work and economic anatomy has a subtle charm about it that will appeal to fans of artists such as Renée French (amongst others). The emotional warmth of her stories (also seen in anthologies such as YOU AIN'T NO DANCER and A PICTORIAL HISTORY OF THE GREAT OUTDOORS) seems to belie the stark black and white printing. Samples of her work may be found here, here, and here. However, a more extensive preview of WOODSMAN PETE was unavailable at the time of writing. This is a shame - not only because free comics are always great, but also because it's harder to sell something when you can't bloody see it.
That minor gripe aside, TALES OF WOODSMAN PETE looks like a perfect summer comic. It's long enough to be satisfying on those long train journeys, but short enough to be portable. It promises to be entertaining without being brainless, and clever without being ponderous. In short, it'll be well worth gambling a couple of quid on.
So let's hope tomorrow doesn't prove too much of a drain on my wallet. [Matthew Craig]
FULL MARX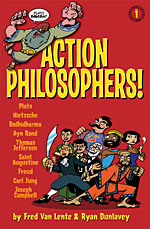 Well... actually, since Marx was in Issue #4, he'll only be in the next trade, but we're not going to be around to use the pun, so better get it out of the god-damn-way now. Time for the Proper Tea is theft gag now? No. Definitely not.
ACTION PHILOSOPHERS GIANT SIZE THING VOL 1 collects the first three issues of the philosophy comi... no, come back here. An unexamined life isn't worth living, remember.
ACTION PHILOSOPHERS (Evil Twin) is a non-fiction comedy comic, and winner of the 2004 Xeric grant. I started following ACTION PHILOSOPHERS with issue #3, where we had a triple bill of Freud, Jung and Joseph Campbell. They're three intellectual figures I have virtually no interest in.
It's a testament to Fred Van Lente and Ryan Dunlavey that upon reading I was:
i) Immediately Enthralled.
ii) Immediately laughing in an embarrassing fashion and dragging over long-suffering flatmates to point out sight gags.
iii) Immediately hungry for the next one.
To whet your intellectual appetite, here's the previews of Carl Yung, Thomas Jefferson and Bodhidharma. Go philosophise!
Generally speaking, there's some fairly quirky choices, at least from this side of the transatlantic divide: Does anyone outside of the US even treat Ayn Rand as a serious philosopher? Let's hope not. She still owes me 1000 pages of my life for bloody ATLAS SHRUGGED. Still - if this trade features anything as good as Derrida as The Deconstructator annihilating the reality of the comic strip or Karl Marx pulling off his shirt and attacking capitalism with an M60 and a handful of hand-grenades, this is as absolutely essential as a comic about philosophy can be. Which, I guarantee you, is about four times as essential as you'd imagine. [Kieron Gillen]
THE SHIPPING LIST FOR JUNE 7th 2006:
Shipping details come courtesy of Diamond. Visit the Diamond website for the latest information, as the list is subject to change.
DARK HORSE
APR060014D ARCHENEMIES #3 (OF 4) $2.99
APR060030D BPRD UNIVERSAL MACHINE #3 (OF 5) $2.99
MAR060023V CANNON GOD EXAXXION STAGE 5 VOL 5 TP $15.95
JAN060109 OH MY GODDESS VOL 23 RTL TP $10.95
DC COMICS
APR060201D 52 WEEK #5 $2.50
APR060182D BATMAN SECRETS #4 (OF 5) $2.99
MAR060289D BATMAN UNDER THE HOOD VOL 2 TP $9.99
APR060208D BLOOD OF THE DEMON #16 $2.99
APR060174D DETECTIVE COMICS #820 $2.99
MAR060383D DMZ VOL 1 ON THE GROUND TP (MR) $9.99
APR060288D EXTERMINATORS #6 (MR) $2.99
APR060219D HARD TIME SEASON TWO #7 $2.99
MAR068128D JLA VOL 3 ROCK OF AGES TP $14.99
APR060222D JONAH HEX #8 $2.99
APR060225D JSA #86 $2.99
APR060248D JUSTICE LEAGUE UNLIMITED #22 $2.25
APR060253D LOONEY TUNES #139 $2.25
MAR060370D MAJESTIC VOL 2 TP $14.99
APR060273D MANIFEST ETERNITY #1 $2.99
MAR060360D MONSTER COLLECTION VOL 6 (MR) $9.99
MAR060361D PIECES OF A SPIRAL VOL 4 $9.99
MAR060330D POWER GIRL TP $14.99
APR060196D SUPERMAN DOOMSDAY OMNIBUS TP $19.99
APR050322D SUPERMAN GODFALL TP $9.99
APR060197D SUPERMAN OUR WORLDS AT WAR COMPLETE EDITION $24.99
MAR068126D SUPERMAN THE MAN OF STEEL VOL 2 TP $19.99
MAR060356D TENJHO TENGE VOL 8 $9.99
APR060244D WONDER WOMAN #1 $2.99
IMAGE
APR061816D CYBERFORCE #0 $2.99
FEB045201 MAGE VOL 1 THE HERO DISCOVERED TP $29.99
MARVEL
APR062011D ANNIHILATION SILVER SURFER #3 (OF 4) $2.99
APR062019D CIVIL WAR FRONT LINE #1 (OF 10) $2.99
APR062025D FANTASTIC FOUR FIRST FAMILY #4 (OF 6) $2.99
APR062003D FRIENDLY NEIGHBORHOOD SPIDER-MAN #9 $2.99
APR062021D FURY PEACEMAKER #5 (OF 6) $3.50
APR062005D LAST PLANET STANDING #3 (OF 5) $2.99
APR062031D MARVEL ADVENTURES SPIDER-MAN #16 $2.99
MAR062082D MARVEL SPOTLIGHT MARK MILLAR STEVE MCNIVEN $2.99
APR062044D MARVEL TEAM-UP #21 $2.99
APR062066D NEW X-MEN #27 $2.99
APR062076D PUNISHER #34 (MR) $2.99
APR062055D UNDERWORLD #5 (OF 5) $2.99
APR062073D X-MEN THE END MEN AND X-MEN #6 (OF 6) $2.99
OTHER PUBLISHERS
MAR063447F 110 PER CENT GN $12.95
APR063143 ACTION PHILOSOPHERS VOL 1 GIANT SIZED THING TP $6.95
APR063215 ANGEL SCRIPTBOOK #4 $3.99
MAR062956E BETTY & VERONICA #218 $2.25
MAR062959E BETTY & VERONICA DIGEST #166 $2.49
APR063335 IN MY LIFETIME (MR) $2.95
MAR062964E JUGHEADS DOUBLE DIGEST #122 $3.69
MAR063368F LAST SIN OF MARK GRIMM #1 (OF 4) $3.00
APR063154 LUBAS COMICS & STORIES #8 (MR) $3.50
MAR063107F MARSHAL #2 (OF 4) $2.95
APR062882 NEXT EXIT VOL 1 TP $12.95
DEC052969 PS238 #15 $2.99
MAR063110F RAYMOND E FEIST MAGICIAN APPRENTICE #2 CVR A $2.95
MAR063111F RAYMOND E FEIST MAGICIAN APPRENTICE #2 CVR B $5.95
MAR062966E SABRINA VOL 2 #76 $2.25
APR062958 SOULFIRE CHAOS REIGN #0 $2.50
APR063348 STONEHAVEN VOL 2 SUBTERRANEAN HEARTS HC (MR) $38.95
APR063347 STONEHAVEN VOL 2 SUBTERRANEAN HEARTS SC (MR) $19.95
APR063412 SUPER FUCKERS #3 (MR) $5.00
APR063411 TALES OF WOODMAN PETE GN $7.00

This article is Ideological Freeware. The author grants permission for its reproduction and redistribution by private individuals on condition that the author and source of the article are clearly shown, no charge is made, and the whole article is reproduced intact, including this notice.