The final Forecast bows out in epic style with a look ahead to CASANOVA, GARGOYLES, ULTIMATES and ETERNALS - plus a few passing remarks from our resident pundits on weird science, the unmasking of Spider-Man, and the demise of good superhero comics.
19 June 2006
---
Welcome to the final Forecast. Every Monday for the past five years, Ninth Art's hand-picked team of crack comic pundits have offered a rundown of some of the best, worst and most noteworthy books on the shelves of your local comic shop.
Now, though, the grand and imposing Ninth Art Lighthouse is closing its doors, and the Forecast team are shipping out and hanging up their nets. More than twenty writers have contributed to the Forecast in the past few years. Today, members of our final line-up share their final thoughts - both on this week's comics, and on comics today.
With great thanks to Adrian Brown, Andrea Burgess, Alex de Campi, Matthew Craig, Lindsay Duff, Chris Ekman, John Fellows, Kieron Gillen, Alistair Kennedy, Nick Locking, Greg McElhatton, Stuart Nathan, John Parker, Frank Smith, Zack Smith, Rob Vollmar, Ben Wooller and Bulent Yusuf.
BOOK OF THE WEEK: CASANOVA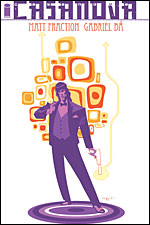 Home-spun grandmother-esque wisdom for the day: There are no endings, just new beginnings.
CASANOVA tells the adventures of Casanova Quinn, un-gentlemanly gentleman thief. His father is the head of E.M.P.I.R.E., who rule the Earth (obviously). He's here to steal everything, including your affections and the affections of your friends and family. And not in a good way. He's the matter/anti-matter-style explosion that results when true hero and anti-hero connect.
CASANOVA (Image) is the first ongoing comic by Matt Fraction (FIVE FISTS OF SCIENCE, REX MANTOOTH), where we see him lay out his obsessions and interests, marrying his vicious sense of humour to his humorous sense of viciousness. For full disclosure here: I'm sharing a table with Fraction at San Diego this year. Which shouldn't be taken as an admission of back-slapping, but rather it constitutes the highest compliment to the man's work. I only ever actively try to befriend people I admire. I'm shallow like that.
CASANOVA is the first ongoing comic by Brazil's Gabriel Ba, who, with his twin-brother Fabio Moon, manages to sound exactly like the sort of person who should be a character in his own book. In fact, in the fantastical autobiographical cameos we've seen in their recent DE:TALES, they really are exactly that. Here, in CASANOVA's two-colour landscapes, he creates a kind of weird-noir, reminiscent of how cool your memory thinks the classic mod-spy dramas looked - except they rarely - if ever - did. It looks as cool as the next person you see who makes you realise you're really not.
CASANOVA is the first book to follow Ellis and Templesmith into what's being referred to as the FELL format. A dollar ninety-nine. Sixteen-page comics, plus extra gibber telling self-contained stories. Something akin to a fifteenth-century portable breach-loading cannon that fires its devastating shot then takes a month to reload before the next one. Except the first issue is double-sized for the same price, yet still as dense as your average solar anomaly.
CASANOVA really is dense. The story accelerates viciously, hitting point after point after point, dragging you along after it. It's some perverse brand of intelligent rollercoaster, in that while the first ride is thrilling you're going to want to get back on to catch all the details. When CASANOVA starts up, it offers a pretty simple challenge: catch me if you can. You can't. It's glorious.
CASANOVA is the sound of you not being bored anymore. CASANOVA couldn't be any newer if it was your next thought. CASANOVA is one of the best excuses for hyperbole this year.
CASANOVA. Comics supernova. [Kieron Gillen]
GRAVE STONES
Cartoons-as-comics are the proverbial dime-a-dozen. But once in a while you get a BATMAN ADVENTURES, and the new GARGOYLES comic promises to come from the same class.
Many moons ago, before they decided to go mad with prefabricated pop stars and 'bling', Disney TV series were actually quite good. DUCKTALES, GUMMI BEARS, hell, even DARKWING DUCK were well-animated, well-written shows appealing to both younger and older audiences.
And thanks to the success of BATMAN: THE ANIMATED SERIES, we got GARGOYLES.
By Disney standards, this was absolutely horrific. Bearing more resemblance to the 'Night on Bald Mountain' sequence in FANTASIA than anything with Mickey and Donald, this was the tale of a winged clan cursed in stone and revived in modern-day Manhattan.
Sure, their creepy glowing eyes had pupils when they calmed down, and they had cute little Teenage Mutant Ninja Turtle names like 'Broadway' and 'Hudson'. But this was still a show where people got shot, gargoyles died, and most of the action took place at night. Oh, and the main guy was voiced by basso voice actor Keith David, so we're not exactly talking sunshine and orange juice here.
Creator Greg Wiseman had dozens of ideas - sometimes to the distraction of the show, which spent about half its run with part of the cast running around the world chasing King Arthur, or something. But the show boasted a loyal fan base, who wanted a better continuation than the neutered Saturday morning follow-up THE GOLIATH CHRONICLES.
The series enjoyed a brief Marvel spin-off featuring some great early work by Amanda Conner, but now Slave Labor has created an all-new series written by Wiseman himself. Sure, you lack the novelty of David's rumbling voice and the contributions of numerous STAR TREK actors, but there's the potential here for a truly fun all-ages fantasy series filled with cool ideas. In short: Filthy nostalgia done right.
I hope they stay the hell away from Avalon, though. [Zack Smith]
EVER ONWARDS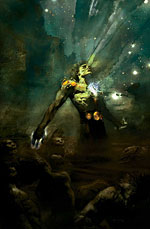 If you're still struggling to get excited about CIVIL WAR, then take heart. Marvel Comics are redressing the balance with a classier offering; THE ETERNALS. In a series based upon Jack Kirby's 70s concept of celestial giants and immortal super-beings, Neil Gaiman and John Romita Jr promise to take readers on a cosmic joyride spanning across time, space, and the fringes of the imagination. And unlike the protracted hostilities of CIVIL WAR, this is an adventure tidily confined to six issues. For lack of a better metaphor, it'll be like a star that lives only half as long but burns twice as bright.
Romita Jr is an amazing artist, and that's a point of fact. There are precious few whose work is as dynamic and of such a consistently high quality. But it's been a long time since he collaborated with a writer who was his creative equal. Paul Jenkins, Mark Millar, JM Straczynski; they all had the outrageous fortune to have their second-rate scripts embroidered by a master of the medium. And it doesn't matter how much perfume you spray on it, a turd is still a turd. Romita Jr's critical reputation has suffered by association.
Working from a script by Gaiman should change all that. Granted, 1602, his last project for Marvel, didn't exactly set the world on fire. It moved at a glacial pace, and readers struggled with the metaphysical ending. But Gaiman is an accomplished storyteller, and 1602 was overflowing with fresh and fascinating insights into characters who, in other hands, had become stale and over-familiar. If Gaiman can do the same for THE ETERNALS, with Romita Jr on board, then this series could be a bona fide masterpiece. And you know what? It feels like an eternity since we've had one of those. [Bulent Yusuf]
KEEP ON FIGHTING TIL THE END
Is anyone able to fathom how things work inside David Gabriel's head? The guy's one of the head honchos of the Marvel trade paperback department, and he's given us welcome lines such as the Peter David HULK and X-FACTOR runs, an expansion of the Essentials brand into lesser-known properties, and an admirably thorough coverage of Marvel's currently running series in collected form.
Every so often, though, he brings us something that's just a little... out of left field, shall we say. OMEGA THE UNKNOWN (there's a new series coming, but not for a good while yet), the digest collection of FIRESTAR, and now CHAMPIONS CLASSIC VOLUME ONE.
For those of you who don't know who the Champions are, well, that's because it was a really bad idea. Take a bunch of heroes who have absolutely nothing in common, and make a team. Iceman and Angel represent the mutant world. Hercules and Black Widow have the Avengers side covered. Ghost Rider's there to placate the spooky biker fanbase. Looks like it shouldn't work, eh? Top marks! It didn't! The CHAMPIONS stories were paint-by-numbers stuff, and pretty forgettable.
This collection isn't notable because it's disposable 1970s Marvel, though. It's notable because it's further proof that Marvel's collected editions program is determined to broaden their range beyond the umpteenth re-issue of the Dark Phoenix Saga. With books like CHAMPIONS coming out, there's every chance that the next month's solicitations could bring one of your own personal fan favourites. Who knows, there might be collections of Joe Kelly's DEADPOOL or Joe Casey's DEATHLOK on the way? And if there were, I'd be grinning like an idiot.
If you like CHAMPIONS, then this is a great week for you - they turn up in GIANT-SIZE HULK too, a book everyone should pick up, if only for the fact that it reprints Peter David and Dale Keown's jolly good one-shot HULK: THE END.
If you don't like CHAMPIONS, my advice would be to keep watching those shipping lists. Because going by this evidence, who knows what'll be coming out next week? [Alistair Kennedy]
WARS AND REMEMBRANCE
During my late, late, late teens, I had a daily train ride of 90 minutes to my place of study. The first half of the journey was fine: it was the familiar trip I took every weekend into the city. The second half, not so fine, moving out of the city towards the foothills, and the further you travel, the dodgier the suburbs get.
I chose to ignore the surroundings and fellow passengers by reading. I'd just discovered the first three STAR WARS novels by Timothy Zahn, which kick-started the resurgence of interest in a series of movies that were, by then, 20 years old. I quickly devoured each new STAR WARS novel as they came along, regardless of whether they were good or bad. In particular, I liked the X-WING novels by RPG stalwart Michael A Stackpole - the first few, at least, before it was discovered that, shock horror, one of the Rogues had a secret Jedi past, and the narrative pretty much forgot about Wedge and his boys. I got sick of Stackpole making everything about one character (his obvious Mary Sue, Corran Horn, for those playing at home). This is why I never bothered with the X-WING comics.
I kinda wish I had bothered. It looks good.
STAR WARS OMNIBUS - X-WING ROGUE SQUADRON VOL 1 is the first in a series reprinting the whole ROGUE SQUADRON series, and apparently the first in a new STAR WARS reprint program by Dark Horse - TALES OF THE JEDI is coming soon. And it looks like a good place for me to rediscover my love for the series. At close to 300 pages, not only does it introduce the Rogues with the first miniseries from 1995 and include a handbook so you can see all the variations of X-Wing and whatnot, but it also - and, seriously, this is the reason to buy this collection - reprints the second miniseries, THE PHANTOM AFFAIR, which Stackpole co-wrote with Darco Macan, with gorgeous pencils from the late Edvin Biukovic, whose completed works are sadly few and far between.
Biukovic + Space combat = Gold, surely? [Ben Wooller]
FIGHT OR FLIGHT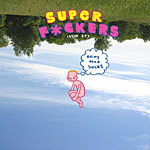 When Ninth Art started five years ago I was buying about twenty different superhero comics. These days, I find there's only one that's worth my time - James Kochalka's all-too-infrequent SUPERFUCKERS, now on its third fabulous issue.
At first glance, this indie tale of surly, disreputable, oversexed teen superheroes might seem the sort of thing that 'real' superhero fans should snub as an insult to the genre. It's disrespectful! It's poking fun! But if you read SUPERFUCKERS, you can detect a real affection for the conventions,idiosyncracies and genius of superheroes. It's not an action comic by any means, but it is a heartfelt tribute to the genre. Kochalka seems to actually like superheroes, which is more than can be said for most of the other people writing them.
The reason I've stopped reading other superhero comics is because the writers don't seem to like superheroes. They write them to mock, subvert and humiliate them, not to revel in the wonder of spacegods, monsters and harried champions.
This antipathy manifests in all sorts of ways, but it's perhaps at its most tedious in its contortionistic attempts to justify the fantastical and contextualise it in grinding explication - however incongrous or redundant the effort might be. Yes, he runs faster than a locomotive, but have we ever seen the soles of his feet? Surely they must be strange feet! Stay tuned, as we explore this inessential minutiae with three pages of expository dialogue!
It's the sort of approach that wants to ask, if Sue Storm can turn invisible by bending light rays away from her, shouldn't she be blind? But we know she isn't blind! Can't we just watch her fight Annihilus? Or there's Colossus, who can transform his entire body into 'organic' steel. Ah, but doesn't he have fully operational, thus fleshy and vulnerable eyes? Well, no. He's made of metal! If you want it to be real, Colossus shouldn't be able to walk. Come to that, he shouldn't be able to turn into metal at all! Eyes become an obsession. With every flying superhero ever, the question arises; how do they keep their eyes open in the face of a dry headwind? But having chosen to believe a man can fly, I'm not interested in attending aviation lectures. I want to watch him toss warheads into the sun!
Such contortions aren't wholly new. Some bright spark long ago coined the clunky concept of 'tactile telekinesis' to explain how Superman can lift up a skyscraper by its foundation stones. As far back as the Official Handbook of the Marvel Universe, just about every power was explained by the presence of a mysterious pocket dimension, which is full of dark matter or ruby lazer energy or Giant Man's excess flesh - though dimension-hopping heroes have yet to stumble into the fat pink meat dimension of Hank Pym's giant thigh.
But at least in those days the pseudo-science was usually given short shrift and consigned to a reference work. Today, writers seem to want to hang entire storylines on loopholes in superhero logic, perhaps in the hope that Stan will send them a 'no' prize. It smacks of embarrassment, as if the writers are ashamed of how they make their money. They think they're whores, and they want to pretend they're dancers.
There's nothing wrong with superheroes. There's nothing wrong with loving superheroes. There's nothing wrong with writing superheroes. If you're a writer and you don't like them, I'll be happy to send you details of adult education courses that can help you pursue a late career change.
In the meantime, Make Mine Kochalka. And screw those other super-fuckers. [Andrew Wheeler]
ULTIMATUM
How many times have you been kicked in the balls? Once? Twice? It's a fair bet that however many times, it's more times than you'd have liked. Nobody's out there telling the world they're low on their nuts-plus-boot quota. Anybody who did say that, well, there are controlled environments available minus sharp cutlery and with enough crayons and wall space to carve your most insane Da Vinci codes. Being kicked in the nuts is a valuable lesson for all men - like touching a lit gas ring, shutting your finger in a door or having one for the road. You learn your lesson and Darwin rests happy in his grave that, gosh darnit, he was right after all.
Well, Darwin... he obviously never read a Marvel comic. Or a DC comic. Or any mainstream comic published in the last few years that didn't have 'Morrison' or 'Ennis' somewhere on its cover. Darwin would have torn up his evolutionary theories after witnessing the utter insanity of comics' 'increased sales in a decreased creativity' environment. Because, whilst Mark Millar can happily spout off about how sales on CIVIL WAR #1 are a record-breaking 300,000 and we're hitting his and Morrison's Second Golden Age - that's ignoring the utter apathy and disgust fans have shown for the product.
And one series which is at the core of all these problems is the rather problematic THE ULTIMATES. This week, #11 ships - and, to put it in context, #1 of volume two shipped in December of 2004. Which, according to my northern counting skills, is somewhere between a few and a shitload of months. (The first volume launched back in January 2001, when Ninth Art was less than a year old.)
It seems comic scheduling these days has either become an iron fist that dictates the quality of the art (leading to terrible workmanlike pencils - see most of DC's output) or something to be approached with a laissez faire "let art breathe" attitude. THE ULTIMATES is one of the founding fathers of the latter philosophy. And while every issue is indeed gorgeous when it comes out, there's no reason for it to be so late, other than editorial reluctance to upset talent or outright inability to schedule it correctly.
Marvel also currently suffers from a muddling of the writer-driven editorial ethos. During Marvel's real Second Golden Age, when Grant Morrison and Peter Milligan were revolutionising X-MEN and Chris Priest and Garth Ennis had their way with the MARVEL KNIGHTS - we had a real writer-driven line. But just as soon as the sadly berated Bill Jemas was gone and the Marvel movies started making tall dollars, this writer-driven work became obfuscated. Now we have the illusion of writer-driven comics, but in reality, comics are driven around artists. Artists are what people buy the comics for; writers are there just to throw scandal and herd the next editorial mandate through their pages.
THE ULTIMATES, again, sits at the heart of this approach. Millar has never been a man with a handle on subtlety, but what reputation he has as an author owes everything to the artists he works with, who distract the eye with their matador flourishes.
But there's a third and greater problem facing comics today - self-hatred mixed with morbid curiosity. I know; I'm as bad as anyone. I sat through all of INFINITE CRISIS, despite knowing it was worthless paper-wastage. I knew. Yet I paid for all seven issues on the off-chance something might happen, because I didn't want to miss out! Because we all buy on the assumption that something important might happen!
THE ULTIMATES is all that with a side order of revamp. Every issue, you're guaranteed a classic superhero reinvented in the Merry Millar Manner. The series' raison d'etre is to be faux-important. But when you strip away the hucksterism, you're left with a gorgeous hollow shell and Hollywood bombast masquerading as plot.
And yet, despite ULTIMATES sitting firmly at the core of the ongoing destruction of the ninth art, I still enjoy it. I like that Ultimate Captain America is a bit of a prick. I like that for possibly the first time in their lives, these heroes seem cool - Hawkeye, for fuck's sake. I love that what Ellis built with Hitch on AUTHORITY has just been blown up 100 times bigger to become some unholy behemoth squatting over the entire industry - nobody can touch it. I love that it's the closest we'll ever get to looking inside Mark Millar's funny wee head. And while it may be the progenitor of some of the biggest declines in the industry, it still stands head and shoulders above 90% of the produce on the shelves today. Because, ultimately; you can't overanalyse fun, can you? [John Fellows]
LAST LEGS
So Spider-Man has lost his mask. In public and irrevocably. The last vestiges of what made Peter Parker the best and most fundamentally interesting character in superhero comics have been swept away in a publicity-whoring stunt based around a story that has echoes in WATCHMEN and KINGDOM COME. Five years of grinding at the foundations has finally paid off. And people, apparently, love it.
The hype machine went into overdrive last week with previews of the next chapter in the Spider-Man shit storm. Peter David, ever the poster child for crossover-related collateral damage, revealed that he's had to change his plans for Peter Parker the high school teacher in order to accommodate superhero bodyguards and a star-struck Flash Thompson.
Yes, that's right: the world's most high-profile superhero - the one with all the nasty, vengeful enemies - is going back to school, even though this affair began with the death of a hundred children in the crossfire of a superhuman skirmish.
Having read the above column, and the assurances that this development will be for keeps - because it can't be undone in any way that's consistent with the character and his idiom - I can't see anything other than contrivance after contrivance in the months ahead. (No change there, but bear with me.)
In order to keep this story going, and in order to leave them a backdoor when it all goes tits up, Marvel will have to resort to some serious playground logic. If they don't, Mary Jane and Aunt May will be dead by the weekend, and J Jonah Jameson will be doing the suicide swandive from the Bugle rooftop. And at least some of these people will have to survive CIVIL WAR, or Marvel won't be able to sell their SPIDER-MAN: DIVORCE-A-THON event next summer.
Fan response has ranged from apathy to glee to incandescence. The apathetic response - "it'll be retconned soon enough," "it's happened now, so we might as well run with it" - is bad enough, because it suggests that people are reading on autopilot. The angry response is pointless, because it's three years too late to change anything.
The glee just makes me want to weep - "Yes! This is what Spider-Man needs!" - because it suggests that people either do not get the point of Spider-Man (it's a story about a person, not a superhero) or they never really liked him in the first place. That said, it's a shame that such enthusiastic open-mindedness isn't so evident in all comics fandoms. If it were, then the industry would be a much healthier place.
"But what about Ultimate Spider-Man?" I hear you cry. Well, that's doomed, too. ULTIMATE POWER, a Marvel/DC crossover by the back door starring J Michael Straczynski's SQUADRON SUPREME, is about to put paid to that version as well. It'll probably sell quite well, which will give Marvel a reason to do more.
Spider-Man's mask never really protected anyone other than Peter Parker. It allowed Peter to walk away from that part of his life when necessary, because being Spider-Man wasn't ever supposed to be his whole reason for being. Spider-Man was a necessary fiction that allowed Peter to fulfil his promise and his motto, while still affording him the semblance of a normal life.
The Black Cat and early Spider-Clone storylines showed why this notion was so important: Felicia Hardy couldn't cope with Peter Parker's real, boring, everyday life, and she couldn't convince him to be Spidey all the time, so they broke up. And when Spider-Man tried to abandon his true identity in favour of the mysterious Spider, it proved to be bad for his mental health.
In story terms, the mask kept the real focus of the series on Peter Parker, even when the dividing line became blurred. Now that the mask has gone, only the superhero remains. From now on, the series will be about Peter Parker trying to cope with being Spider-Man, rather than Peter Parker trying to cope with being Peter Parker.
Perhaps the worst thing about this whole affair has been the media coverage. Between "Spider-Man Unmasked" and "Batwoman A Sexy Lesbian", the promotion of comics as a well-rounded medium has taken a bit of a knock. Certain journalists, including those from respectable organisations, have displayed an awareness of the medium - even as it pertains to the superhero genre - that's only a step away from the "Pow! Zap! Comics No Longer For Kids" clichés.
The modern comics renaissance has seen a diversification of vendor, of format, and of product. We can finally claim - if we fudge it a bit - that there are comics out there for everyone. Can we really afford to let quasi-masturbatory fantasies and desperate sales gimmicks be the vanguard of the medium in the wider world?
My recommendation for this week's comics? Tokyopop's sumptuous five-part space drama, PLANETES. Real people. Real emotions. Real(istic) rocket ships.
Failing that, buy an ice cream instead. [Matthew Craig]
THE SHIPPING LIST FOR JUNE 21st 2006:
Shipping details come courtesy of Diamond. Visit the Diamond website for the latest information, as the list is subject to change.
DARK HORSE
MAR060046D CRIMINAL MACABRE FEAT OF CLAY (ONE SHOT) $2.99
DC COMICS
APR060203D 52 WEEK #7 $2.50
NOV050241D BATMAN HUSH RETURNS TP $12.99
APR060286D BITE CLUB VAMPIRE CRIME UNIT #3 (OF 5) (MR) $2.99
APR060278D CLAW THE UNCONQUERED #1 $2.99
APR060276D EX MACHINA #21 (MR) $2.99
APR060210D FLASH THE FASTEST MAN ALIVE #1 $2.99
APR060211D FLASH THE FASTEST MAN ALIVE VARIANT EDITION #1 $2.99
MAR060318D GREEN LANTERN CORPS RECHARGE TP $12.99
JUN040399 GREEN LANTERN PASSING THE TORCH TP $12.95
APR060289D HELLBLAZER #221 (MR) $2.99
APR060224D JSA CLASSIFIED #13 $2.99
APR060218D JUSTICE #6 (OF 12) $3.50
MAR060357D LAND OF THE BLINDFOLDED VOL 8 $9.99
APR060179D MAN-BAT #3 (OF 5) $2.99
APR060227D MANHUNTER #23 $2.99
APR060259D MEGATOKYO VOL 4 $9.99
MAR060359D MOON CHILD VOL 3 $9.99
SEP050257D OMAC PROJECT TP $14.99
APR060250D PRINCESS NATASHA #1 (OF 4) $2.25
APR060178D ROBIN #151 $2.99
APR060256D SCOOBY DOO #109 $2.25
APR060235D SGT ROCK THE PROPHECY #6 (OF 6) $2.99
APR060231D SHADOWPACT #2 $2.99
MAR060299D SHOWCASE PRESENTS SUPERMAN VOL 2 TP $16.99
MAR060302D SUPERGIRL POWER TP $14.99
MAR060356D TENJHO TENGE VOL 8 $9.99
APR060297D TESTAMENT #7 (MR) $2.99
MAR060339D WONDER WOMAN VOL 4 DESTINY CALLING TP $19.99
MARVEL
APR062009D ANNIHILATION NOVA #3 (OF 4) $2.99
APR062063D ASTONISHING X-MEN #15 $2.99
APR062016D CAPTAIN AMERICA #19 $2.99
APR062089D CHAMPIONS CLASSIC VOL 1 TP $19.99
APR062098D ESSENTIAL SAVAGE SHE-HULK VOL 1 TP $16.99
APR062022D ETERNALS #1 (OF 6) $3.99
MAR068226J ETERNALS 1 FOR 50 ROMITA JR SKETCH VARIANT #1 (OF 6) PI
APR068106D ETERNALS COIPEL VARIANT LTD ED #1 (OF 6) $3.99
APR062023D ETERNALS ROMITA JR VARIANT #1 (OF 6) $3.99
APR062030D GIANT SIZE HULK #1 $4.99
APR062077D HAUNT OF HORROR EDGAR ALLAN POE #2 (OF 3) (MR) $3.99
APR062029D IRON MAN #9 $2.99
APR062006D LAST PLANET STANDING #4 (OF 5) $2.99
APR062033D MARVEL ADVENTURES AVENGERS #2 $2.99
APR062086D MARVEL ADVENTURES SPIDER-MAN VOL 3 DOOM WITH VIEW DIGEST TP $6.99
APR062045D MARVEL WESTERNS OUTLAW FILES $3.99
APR062050D NEW AVENGERS #20 $2.99
APR062065D NEW EXCALIBUR #8 $2.99
FEB061989 ULTIMATES 2 #11 $2.99
APR062068D UNCANNY X-MEN #474 $2.99
APR062069D UNCANNY X-MEN ANNUAL #1 $3.99
APR062087D UNCANNY X-MEN THE NEW AGE VOL 4 END OF GREYS TP $14.99
APR062072D X-MEN FAIRY TALES #2 (OF 4) $2.99
OTHER PUBLISHERS
MAR063252F A G SUPER EROTIC ANTHOLOGY #35 (A) $4.99
APR063215 ANGEL SCRIPTBOOK #4 $3.99
APR062931 ARCHIE #567 $2.25
APR062846 CONTINUITY GN $12.95
MAR063174F DORK TOWER #34 $3.49
MAR063175F DR BLINK SUPERHERO SHRINK #3 (RES) $3.49
FEB062990 ELSINORE VOL 1 PSYCHO SANCTII TP $14.95
FEB062866 FATHOM #9 $2.99
APR062879 GARGOYLES #1 $3.50
SEP052885 GI JOE SNAKE-EYES DECLASSIFIED #4 (OF 6) $2.95
APR063313 GIRLY VOL 1 TP $11.95
MAR063154E HOW TO SELF PUBLISH COMICS #4 (OF 4) $4.95
MAR063312F LAI WAN #1 (RES) (MR) $3.99
APR062881 LITTLE SCROWLIE #14 $2.95
MAR063107F MARSHAL #2 (OF 4) $2.95
JAN062996 PURGATORI (DDP) #6 (MR) $2.95
MAR063110F RAYMOND E FEIST MAGICIAN APPRENTICE #2 CVR A $2.95
MAR063111F RAYMOND E FEIST MAGICIAN APPRENTICE #2 CVR B $5.95
APR063020 SIMPSONS COMICS #119 $2.99
MAR063091F SINGAPORES GREATEST COMICS $19.95
MAR063819H SOUTHLAND TALES BK 1 TWO ROADS DIVERGE $12.95
JAN063370F STREET FIGHTER II #4 ALVIN LEE CVR A $2.95
JAN063373F STREET FIGHTER II #4 POWERFOIL CHOI CVR C $12.50
JAN063371F STREET FIGHTER II #4 SVEN CVR B $2.95
APR062946 TALES FROM RIVERDALE DIGEST #12 $2.49
MAR063293F TRAILER PARK TERROR COLOR SPECIAL #4 (MR) (NOTE PRICE) $3.99
APR063172 UNCLE SCROOGE #355 $6.95
APR063173 WALT DISNEYS COMICS & STORIES #670 $6.95

This article is Ideological Freeware. The author grants permission for its reproduction and redistribution by private individuals on condition that the author and source of the article are clearly shown, no charge is made, and the whole article is reproduced intact, including this notice.